!!! Cancellation / Annulering / Annularion / Stornierung Antwerp shellshow !!!
Met heel veel spijt in het hart moeten we de schelpenbeurs, die we eerder al uitstelden naar 29 en 30 augustus, volledig annuleren. De huidige wetgeving (Covid19) laat een evenement zoals onze beurs nog altijd niet toe en er is geen duidelijkheid wanneer men de wettelijke knoop doorhakt. Zonder duidelijk perspectief kunnen wij als vereniging de praktische organisatie niet rond krijgen, maar blijven inschrijvingen ook uit of krijgen ook onze standhouders zich niet georganiseerd. De 30e beurs zal dus voor mei 2021 zijn. We proberen hier zeker een speciale editie van te maken omdat we in 2021 ook het 60-jarige bestaan van onze vereniging vieren.
With a lot of regret, we have to completely cancel the shell fair, which we previously postponed to 29 and 30 August. Current legislation still does not allow an event such as our shellshow and there is no clarity when when the Covid19 restrictions will be further lifted. Without a clear perspective, we cannot complete the practical organization, also there are very little registrations as our exhibitors also cannot get organized in these strange times. The 30th fair will therefore be held in May 2021. We are certainly trying to make this a special edition because we will also be celebrating the 60th anniversary of our association in 2021.
WHAT is the "Shell Show"?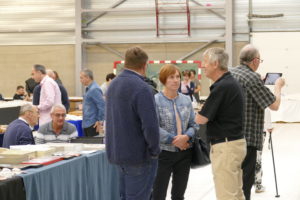 Our annual shell fair has grown over the years to become one of the largest – if not THE largest – shell shows worldwide. With nearly 400 meters of tables one can find an enormous offer of seashells, offered by dealers from all over the world.
The event is known all over, and next to finding fantastic shells, one can meet with shell friends from all over the world for a nice chat within the exciting environment of the fair as an extra.
WHERE is the "Shell Show"?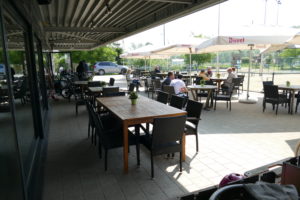 Would you like to visit the fair? Welcome !
Since 2018 the fair is held at "Sporthal Kattenbroek" in Edegem (near Antwerp, Belgium), and such during the third weekend of May.
Apart from a roomy and illuminated hall, Kattenbroek offers a child-friendly playground, cozy terrace, and catering.
The address is:
Sporthal Kattenbroek
Kattenbroek 14
2650 Edegem
Belgium
Will you come by car? Then check out the map here.
Will you come by public transport? Then check the route planner here.
Want more info about Kattenbroek? See www.kattenbroek.be
HOW to participate yourself as a dealer ?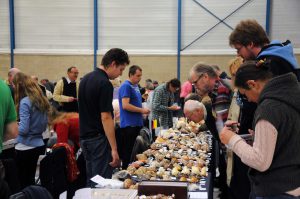 Would you like to participate yourself as a dealer? That is possible! Just fill in the registration form below in the language of your choice, and send it to us as indicated in the form !
Inschrijvingsformulier in het Nederlands
Registration form in English
Formulaire d'inscription en Français
Anmeldeformular in Deutsch
Further information with regards to participation can be obtained via our Shell Show secretary Charles Krijnen (tel. +31 (0)13 4630607)
How it all started.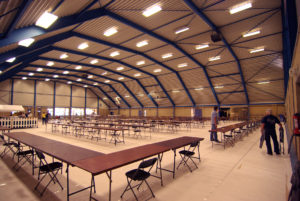 Since 1991, the Royal Belgian Society for Conchology organizes an annual shell fair..
During the pioneer years, the shell show was held at the Damiaan-instituut in the city of Aarschot (Belgium) – also thanks to the professional activities as a teacher of one of the organizers. Soon, the student dining area of the school became too small for the ever growing number of dealers and visitors and the fair was relocated to Antwerp.
The sports center "Schijnpoort" was rented in the city of Deurne (next to Antwerp, Belgium) – next to the famous Antwerp "Sports Palace". This location served us for the monthly meetings as well as the annual shell fair. Government plans 10 years onwards for the "Oosterweel verbinding" (a new bypass / ring for the city of Antwerp) made that we had to look for new location once again.
A new location was found in Hoboken (next to Antwerp) once again in a sports center called "Extra Time" in Hoboken (see photo on the right made during the build-up of the 2014 show). This would again be the epicenter of our monthly and yearly activities for the next ten years. Expansion of that region and plans to convert the sports center to a seminar-facility forced us in 2017 to say goodbye and once again look for a new location.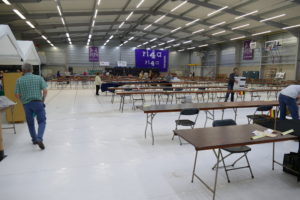 Ever since, monthly meetings are held at the "Cultureel Centrum van Sint-Anneke Linkeroever" (Cultural Center of the region "Sint-Anneke" on the left bank of the river Schelde), and the annual shell show is – since 2018 – held at the sports center "Kattenbroek" in Edegem (south of Antwerp). (see photo on the left from the build-up in 2018).
Even if it is located somewhat in the back, Kattebroek offers the best facilities at present with regards to the hall, light, catering, child-friendliness and cleanness. We hope we can continue to organize our Shell Show for many years to come !